In carrying out the Mid-term Management Plan, OSAKI will take the following strategies.
(1) Developing value-added smart meters and expanding energy solutions (Japan)
Accelerate R&D and reinforce manufacturing framework for next-generation smart meters and explore added value for new smart meters.
(2) Developing new products and services (Japan)
Collaborate with various partners to accelerate technology development and reinforcing marketing

Leverage management resources and reinforce framework to create and market new products and services

Focus on solution business including one-stop services for decarbonization and GX or the green transformation, and contribute toward building a sustainable society.
(3) Expanding Global Business (outside Japan)
OSAKI Group will execute the following measures in the focus regions including Oceania, Europe with particular focus on UK, and emerging countries in Asia and the Middle East.
Expand solution services for higher profitability and lower component shortage risk

Accelerate the next-generation hardware/software development

Reinforce supply chain management
(4) Building resilient group operations
Build strong teams by training and allocation

Strengthen a group-wide risk control

Elevate financial soundness and allocate group resources

Strengthen sustainability activities
Business Portfolio Management
The OSAKI Group carries out the aforementioned strategies by managing the business portfolio below.
Finanicial and Management Targets
♦ Financial Targets

♦ Sales by Busines Portfolio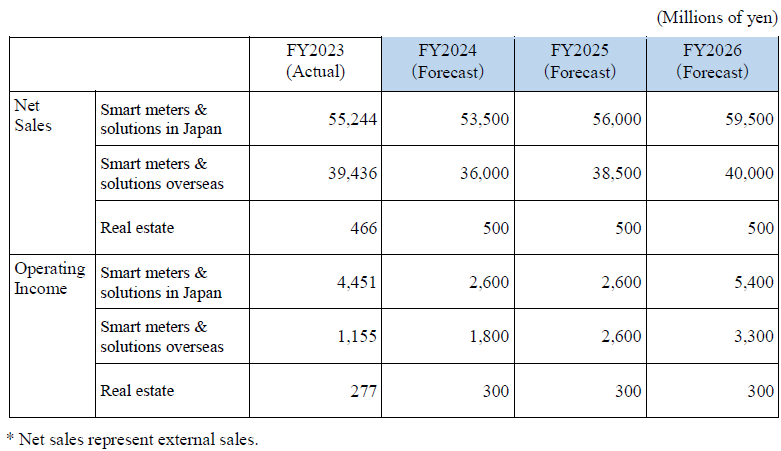 EDMI is a leading global Smart Energy Solutions provider, dedicated to the design, development and manufacturing of innovative and technologically advanced energy meters and metering systems for the utility industry. Headquartered in Singapore, the company has deployments in more than 100 countries worldwide.