challenge for advanced technologies, create new values and be responsible for better society through our energy solutions.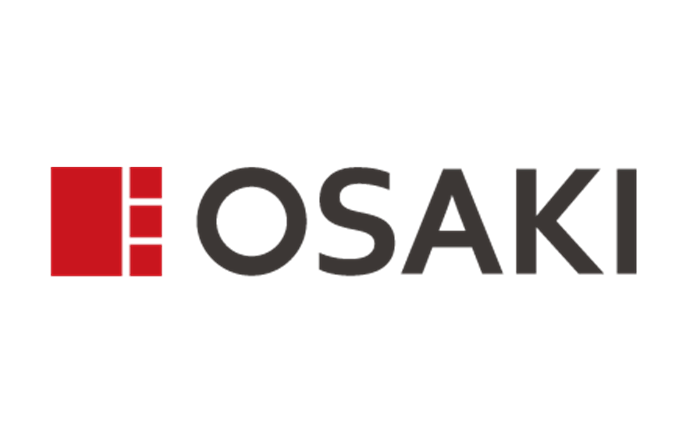 Over the years through technologies and products associated with measurement and control, Osaki Electric Group has earned its trust and built up its assured engineering capability that has become known as "Precise Osaki."

Our logo expresses Precision, Reliability, and Technology with three small squares, which together represent Osaki's unshakable value cultivated to date in the energy management domain. The rectangle, which signifies new value for the global market and the energy solutions domain, joins and completes one large square, the symbol for "Global Energy Solution Leader."

The large square also symbolizes 'O' for Osaki and 'E' for Electricity and Energy. The logo's font aims for easy recognition globally, simple yet original. The 'O' for Osaki is a perfect circle, representing a fully panoramic 360˚ view and global perspective.
OPEN MIND
"Committed first to making products that delight the customer."
We respond flexibly and actively to our customers' needs, regardless of market or time frame including unforeseen and unmet needs, without any preconceptions.
SOCIETY
"Advance in step and in harmony with society. "
Our specialized technologies form the foundation we stand on; we address the hopes and desires held by society with new technology. We work in harmony with society as a member of society, contribute to society, and strive to become a company essential to society.
ACTIVITY
"Maximize the output of each individual, and make dreams and comforts come true."
Great new value is born when the strength and talent belonging to each individual come together as a driving force for societal advancement. We consider proactive creativity, ingenuity, and engagement as the sources to purpose in life and work, as well as attaining the dreams and comforts of everyone.
KNOWLEDGE
"Hold broad interests in external trends afoot, and take on new challenges actively."
Mindful of the abruptness in change today, we gather information from a global perspective and respond with a rich palette of sensitivity. We believe our active challenge towards new initiatives energizes the company and invigorates society.
INTEGRATION
"Consider the companywide position, and create a collaborative organization."
We consistently consider the companywide perspective in our actions in regard to our own roles and roles of our immediate workplaces. Collaboration links the information and value held by each of us, and fosters an energetic corporate culture.