AI developed for energy management systems
Since 2003 OSAKI ELECTRIC has been providing customers with a system to control power usage and lower power consumption. In fiscal 2018, engineers at the Research and Development Division developed an AI program uniquely designed for power control and management. The system automatically controls air conditioning and lighting using demand control equipment.As of fiscal 2018, OSAKI ELECTRIC has installed the system in more than 3,000 large retail stores and home appliance shops, providing savings of 5% to 10% in power consumption per annum. The system required some parameters such as room temperatures to be set manually, but the new system with AI automatically sets the parameters using accumulated data, including power consumption patterns and weather forecasts. This allows stores to maintain the most comfortable conditions for customers at all times while saving power.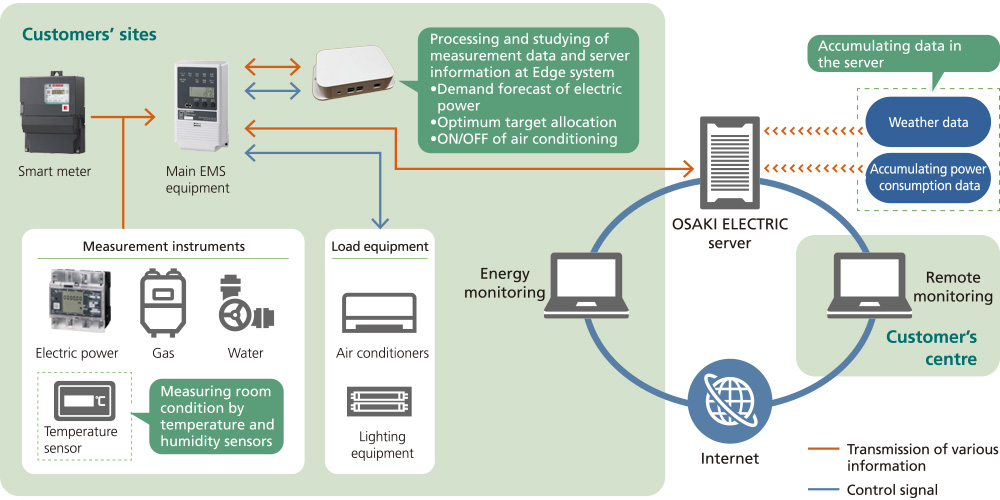 Smart metering system provides labour savings on meter reading
OSAKI ELECTRIC developed an automated meter reading service for large commercial facilities and building maintenance. The service allows building owners and maintenance companies to automatically collect tenant billing amounts for power, gas and water. Data is collected and analysed by cloud servers, allowing the building owners and maintenance managers to work on it remotely. This helps to save on the time and manpower required to go and visually read meters, and also prevent human errors.